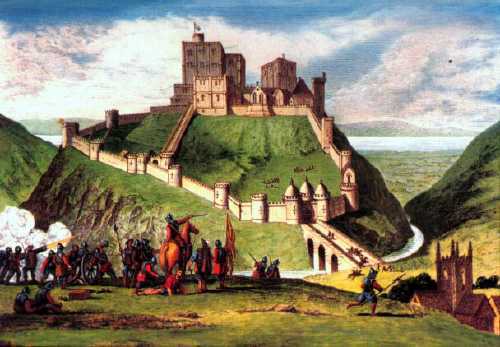 Early History of Corfe Castle
The ruins of Corfe Castle, managed by the National Trust, take visitors through a long and eventful history. The surrounding landscape is dotted with Bronze Age barrows and indeed evidence on Corfe Castle Common suggests a history of civilisation over 6000 years ago. It is rumoured that a significant find of valuable coins was made on Corfe Castle Common, since which the National Trust has banned metal detectors!
Early history involved a likely cohabitation between the Romans and Celts.  But events didn't hot up until AD875; King Alfred the Saxon King struck an agreement with Hubba the Dane, a marriage of convenience, but two years later Halfden broke the truce. A decisive naval battle took place; attacked by Alfred's ships and hindered by a furious storm, 120 Viking ships sank off Peveril Point near Swanage. To prevent further attacks, Alfred built a castle at "Corffe's Gate". In AD978 Queen Elfrida murdered her stepson, King Edward the martyr, here; this was in order to put her own son on the throne, subsequently Ethelred the Unready.  This triggered many years of Danish plundering. There is a small section of wall in the West of the Inner Bailey of the Castle of a herring-bone design which is probably part of Elfrida's palace.
Edward was hurriedly buried in the local town of Wareham, however within a year his remains were disinterred and were said to be miraculously preserved – a sign of sainthood to contemporary Christians.  The boy king was reburied with much pomp at nearby Shaftesbury Abbey, today Edward is still revered as a saint, his feast day being celebrated on the 18th March.
Today's Castle.
Today's castle was started during Norman times, when it became more common for castles to be made from stone and not wood.  Corfe Castle has taken its place in history because of its fabulous defensive position.  Those that enjoy a walk along the surrounding Purbeck hills will see why. The ability of the castle to defend itself lead to its destruction during the civil war.  Civil war broke out and it was left to Lady Bankes (Brave Dame Mary) to defend the castle in 1643 and 1645 through two sieges. She was finally overcome by the treachery of one of her own officers, Colonel Pitman. Following an Act of Parliament, the Castle was then blown up from the inside by engineers. 
Sir John Bankes, who purchased Corfe Castle with all its manors, rights, and privileges in 1635 from the Lady Elizabeth Coke, was the first of this family to settle in the county of Dorset. His ancestors for many generations held property in and near Keswick in Cumberland. The Title deeds and grants from the Crown of the black lead mine at Borrowdale date back as far as Henry VI. and Edward IV. and seem to have been again renewed under the seal of James I. The greater share of this mine (though now very different in value from those of olden times) is still in the possession of the family representative, and there still exists in Keswick the old manor house now converted into a shop, where an ornamental ceiling has been preserved, richly decorated with the armorial bearings of the family of Bankes. Sir John was admitted a commoner of Queens College, Oxford, in 1604, at 15 years of age, but left the university before he took a degree, and settled in Gray's Inn, where he distinguished himself by his uncommon application to the study of the law, in which he acquired great eminence and reputation. He was Lent reader and treasurer to that society, and received the honour of knighthood. He was also appointed attorney to Prince Charles. In September 1634 he became attorney-general to the King, which situation he held during the litigation of Mr. Hampden's famous cause of ship money; and his argument upon that great question is still extant. In January 1640 he was made lord chief justice of the Common Pleas, and afterwards followed his majesty from Westminster to York; having left his lady to defend Corfe Castle, which she did with great courage, until it was betrayed into the hands of the rebels.