Corfe Castle Holiday Cottages, offer homes and holiday houses to rent and are based in the idyllic village of Corfe Castle.  We offer self catering accommodation in the village, Corfe Valley and throughout Dorset.  Our holiday cottages are all graded with Visit Britain, achieving between 3 and 5 stars.  This exceptional village is an idyllic country retreat guarded by Corfe Castle ruins, managed by the National Trust.  If you are looking to visit the village, visit our accommodation selection which details self catering cottages in Corfe Castle.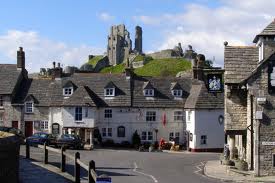 The Greyhound Inn (pictured above), in Corfe Castle is said to be the most photographed pub in England, given the back drop you can see why.
This beautiful village is steeped in history from early settlements, through royal murders, the civil war through to a wonderfully preserved quintessentially English village you find today. Corfe Castle village is overlooked by the castle ruins, preserved by the National Trust. There are two main roads through the village lined by beautiful period Purbeck stone cottages. Corfe Castle cottages date back over hundreds of years, many of which are said to have been built from the castle stones when it was blown up after the civil war.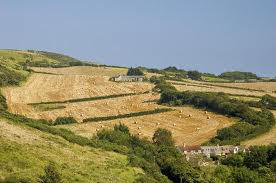 Modern Corfe Castle offers at least five traditional public houses, a lovely bakery, general store, National Trust shop, olde sweet shop, steam railway and self catering cottages agent. The village is a tourist hotspot, being at the centre of the Isle of Purbeck, visitors not only enjoy the castle ruins but the steam railway link to Swanage, which boasts lovely golden, sandy beaches. The village is also located at the centre of a network of footpaths, from the village centre you can walk to the top of Rempstone Hill and enjoy show stopping views of the castle and Poole Harbour; to Corfe Common over 200 acres of unspoilt common land again managed by the National Trust; to Kingston or Church Knowle, a handful of delightful villages.
The surrounding countryside is trully unique. The Isle of Purbeck boasts a diverse natural habitat. Corfe Castle village is surrounded by rolling farmland, dotted with smaller villages and cottages. These fields (pic right) lie at the foot of Rempstone Hill, a fabulous viewing point for Poole Harbour, Studland Bay and the Isle of Purbeck. The Isle of Purbecks interesting geology and fantastic coastline sparked a unique history spanning thousands of years. Swanage was an important port and Corfe Castle was the natural choice for a royal defensive position. The steep mound was an ideal spot to build one of Englands first stone castles.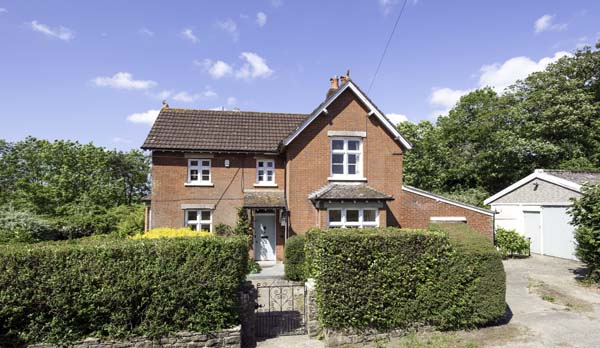 West Lodge (on the left) near Corfe Castle, one of a fine example of luxury accommodation available to rent from Dorset Cottage Holidays, located in the village.  Many cottages in the village are built from the castle remnants.  The castle was laid seige in the Civil War and only overcome when one of Lady Bankes servants betrayed the castle.  The Roundheads blew the castle up because of its impressive defensive position.
National Trust and The Castle.
Enjoy one of Britain's most iconic and evocative survivors of the English Civil War, partially demolished in 1646 by the Parliamentarians. Discover 1,000 years of history as a royal palace and fortress. With fallen walls and secret places, there are tales of treachery and treason around every corner
A favourite haunt for adults and children alike, you can't fail to be captivated by these romantic castle ruins with breathtaking views across Purbeck. The castle is home to a vast array of events throughout the year. Practice your archery skills, watch a falconry display, marvel at medieval jousting watching history come to life.