Corfe Castle – The ruins have recently polled as one of the most romantic ruins in England.

Corfe Castle, now a quintessential English village, can lay claim to a dramatic past. Site of a royal murder and a civil war siege, which leaves us with the National Trust owned ruins we see today. The ruins overlook a beautiful village, consisting of chocolate box Purbeck stone cottages. Surrounded by breath-taking countryside bordered by the Purbeck Hills, it is an exceptional place for views, walking, biking, photography and wildlife.
Corfe Castle Model Village
Opened in 1966 to the public, the Model Village depicts the Castle and village as it was in 1646. You can compare the real castle with the Model castle from our garden, this gives a fantastic idea of how it used to look when it was home to Lady Banks.
Swanage & Corfe Castle Steam Railway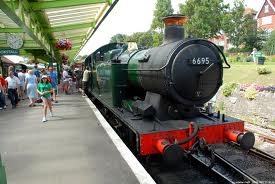 The restored railway runs from Norden, with stops at Corfe Castle, Harmans Cross and onto the seaside town of Swanage.
The Swanage Railway offers a more intensive heritage steam and diesel timetable train service than virtually any other preserved railway.
Steam and diesel galas, Family events plus regular Evening Dining and Sunday Lunch services complement themed events such as our highly popular Santa Special trains during the run up to Christmas.
The award-winning standard gauge preserved steam railway is located in Dorset with easy access from neighbouring Hampshire and the South of England. Visitors can experience a unique journey through six miles of beautiful scenery passing the magnificent ruins of Corfe Castle.
Corfe Castle Walks
You can find more in depth information on walks in this area here. There is a huge network of footpaths spanning from the village, much to do with the villages importance in days gone by. You can walk from the village over the Purbeck hills with spectacular views of Brownsea Island and Poole Harbour to Swanage and Studland.
Church Knowle
Church Knowle is a small village on the Isle of Purbeck, in the county ofDorset, in the south of England.
Church Knowle is situated about one mile west of Corfe Castle, four miles south of Wareham and about six miles west of Swanage. This beautiful village lies at the foot of the Purbeck Hills, traditional Purbeck stone cottages lie on either side of the country road that passes through the village. Church Knowle is home to both a lovely 17th Century pub (The New Inn, renowned for its Blue Vinney Soup) and the Margeret Green Rescue Centre , which hosts a variety of events throughout the year.
The history of Church Knowle is included in Domesday Book, several settlements are recorded, each associated with a small rectangular block of land the boundaries of which are still preserved today in continuous field banks. The settlements N. of the Corfe River were Whiteway, Barnston, Church Knowle and Bucknowle; those to the S. were West and East Bradle and West and East Orchard. Many of them have earthwork remains as well as later buildings, together with traces of their field systems. Only at Barnston is there a surviving mediaeval house, stone-built, with later alterations; it is a building of visual as well as archaeological note.
A well preserved Iron Age or Romano-British settlement lies on Smedmore Hill and is surrounded by fragmentary 'Celtic' fields. A mosaic pavement found near East Creech indicates a Roman villa, and several sites have produced evidence of shale working.
Monkey World.
A fabulous day out for all your little monkeys. The ape rescue centre, as featured on TV's Monkey Business rescues and rehabilitates all apes and monkeys. A visit here will take up a whole day.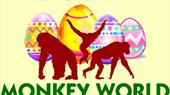 Blue Pool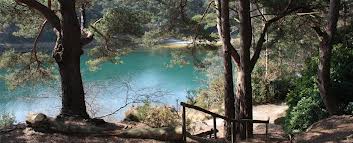 The Blue Pool at Furzebrook  constantly varies in colour. Very fine clay in suspension in the water diffracts light in different ways, producing a spectrum of colour sometimes green sometimes turquoise.
Set in a deep clay bowl, steps lead down to the waters edge or up to views of the Purbeck Hills. The Pool is surrounded by 25 acres of heath, woodland and gorse interlaced with sandy paths  that seem to take you to another world.
The Blue Pool is open throughout the year but runs special events at Halloween, Christmas and a new light illuminations display throughout January. The cafe is an excellent place to eat.
Tank Museum
The Tank Museum brings the history of tanks and tank crew to life…Supported by the world's best collection of tanks & action packed live displays. If you are basing your holiday in Corfe Castle, the tank museum is only a fifteen minute drive away. You can spend the whole day enjoying a wealth of displays, we would recommend for older children.
Farmer Palmers
"Hay", Whatever the weather, Farmer Palmer's Farm Park near Poole has stacks of indoor play and exciting activites. In fact Dorset's favourite attraction has a full daily timetable of events and lots of baby animals for you to meet. Children can explore both indoor and outdoor play areas, run, slide, climb and bounce! Farmer Palmers is only ten minutes from your holiday cottage in Corfe Castle, we love to take the little ones for a whole day of fun. They have recently added another indoor play area with led lit tunnel. Ideal for under 8's.